There are some things that you need to know before you start looking for the best airsoft goggles and mask. First off, you should know that we all come with different face shapes, so we need to fit these things to our face. Also, you need to know that most airsoft goggles are not made for the whole head. Most are made for the eyes only, and they won't do much for the player if you put them on your whole head. These are the best airsoft goggles right now:
As technology has advanced, the best airsoft guns shoot harder and harder, forcing eye protection to get better. Also, many of the best airsoft goggles and masks are more comfortable to wear than older models, since they are made from a more comfortable material. Many airsoft goggles and masks come with interchangeable lenses, so you can personalize your goggle mask to fit your preferred shooting distance. This article isn't just about the best airsoft glasses, but also the must-have features to make the right decision for you.
Full or Half Face Mask?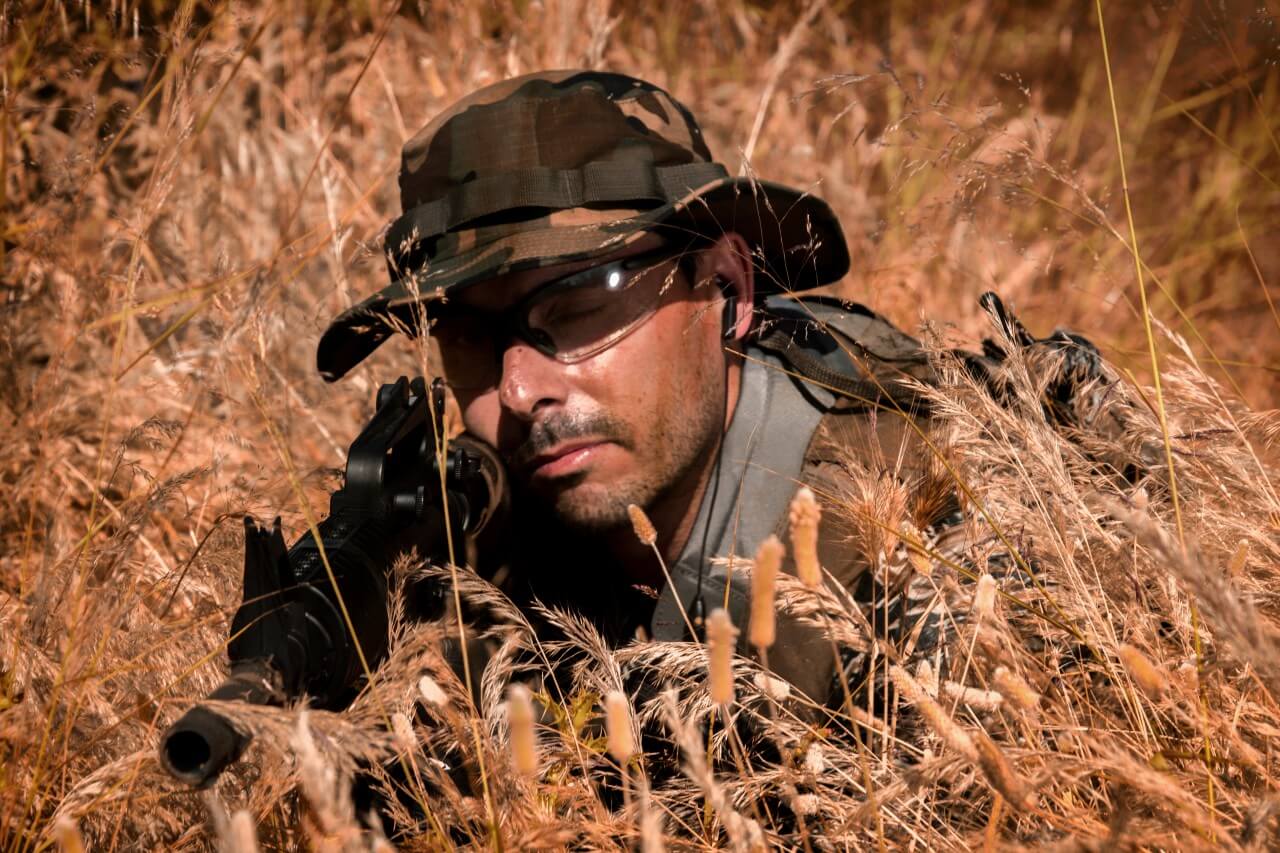 If you've even been to a proper airsoft field, you'll understand the need for protective face masks when playing. Unfortunately, many people are stuck in trying to decide which would be best for them. The availability of different types of masks in the market makes it even more difficult for many people to decide. This article seeks to explain the most popular types of face masks. We'll also highlight their differences to enable you to make the right choice when you go to the market.
However you choose to look at it, the truth remains that wearing the right safety mask is an essential part of your airsoft experience. Apart from offering adequate eye protection, masks give you the look of a professional airsoft player even when you hit the field. Even stray BBs at very low speed can cause significant injuries to your eyes and other sensitive parts of your face.
Face masks are designed to protect your face while allowing you to express your personality. An excellent place to start your research for the best airsoft mask is by exploring the different types of masks available in the market. The two main types of masks available in the market are full-face masks and half-face masks.
Full Face Masks
As the name denotes, this type of face mask is designed to cover the entire face. Therefore, they offer the best protection to different parts of the face. However, they can be warm, causing you severe discomfort during hot weather conditions. To beat this, we recommend opting for well-ventilated full face masks that won't get you too hot when you have to play in hot weather conditions.
Half Face Masks
This type of face mask doesn't cover the entire face. Half face masks are further divided into different categories, including:
Top half masks. These masks are designed to offer protection to your eyes. They are an excellent option for moments when you may want to play under scorching weather conditions. But, unfortunately, they'll leave your teeth and jaw areas exposed to hits.
Lower face masks. These are excellent masks for players that prefer to wear safety goggles. They cover the lower part of the face, protecting your jaw, teeth, and other sensitive parts of your lower face. If you are worried about breathability, we recommend opting for a good-quality mesh mask. Their ability to allow free flow of air under different weather conditions make them great options.
When To Choose Full Face Masks
Full face masks provide complete protection for your face. It provides better sealing and does not leave any part of your face exposed to hits.
Since the full face mask covers the entire face, experts often recommend it for less professional plays. Amateur players do not understand safety measures, so they'll shoot without adequate targets. Wearing full-face masks helps to keep you as protected as you should be from unexpected shots.
Full face masks are beneficial for moments when other face protection equipment is unavailable.
These masks are also excellent for people whose nose, jaw, or ears are prone to injuries.
When To Use Half Face Masks
Half-face masks are excellent for use in playing fields with strict rules requiring the use of other protective equipment like goggles, ear muffs, etc.
People who use prescription glasses may have to use half-face masks to accommodate their glasses when playing.
Half face masks do not require removing hard hats, making them an excellent option for players who desire wearing and removal ease.
Lenses
Apart from face masks, another vital safety equipment for the face is safety goggles. While in the market for a safety goggle, you'll want to choose a goggle that best suits your playing needs. You want to pay special attention to the goggle's frame, considering how much it influences appearance and comfort. Beyond the frame, however, you want to also pay special attention to the goggle's lenses. Your choice of lens would determine the goggles' comfort, appearance, safety, and vision.
One common mistake airsoft players often make when buying safety goggles is not spending enough time to survey the lens's design, materials, and coatings.
This section features the basics you should know about goggle lenses before going to the market. The information contained here applies to all types of airsoft safety goggles. So whether you need a single vision lens for better night vision or a progressive lens, you can be assured that the information featured here will help pick the best. Below, let's look at some factors to consider in a lens when buying a safety goggle for your airsoft play.
Lens Coating
One of the most important factors to check when buying a goggle is lens coating. This is because the lens coating directly affects the performance, appearance, and durability of your eyeglass lenses. Unfortunately, many people ignore this; hence, they often end up with goggles that do not perform well. If you are thinking of purchasing new safety goggles, we recommend checking the lens coating for the following.
Scratch resistance
Let's be clear – no goggle lens is scratch-proof.
However, you can get goggles whose lenses feature proper treatment with a clear, scratch-resistant coating. In addition, such lenses have harder surfaces to make them more resistant to scratching, whether from cleaning your goggle with a paper towel or occasionally dropping them on the floor.
Scratch-resistant coatings would be especially beneficial for kids' lenses, considering how carelessly they often handle them. However, since these coatings are usually optional, we recommend telling your vendor that you want your goggle lenses to include a coating.
Anti-fog features
You want to see clearly in every condition, and that's why this is an essential factor. For example, if you are playing in a cold climate, you'd probably have noted how frustrating it is to have fog on your goggles. These fogs would often limit your eyesight, leaving you prone to hits from opponents.
Fortunately, many companies are learning to create permanent coatings that will help eliminate this problem. The coating would help to eliminate the condensation of moisture on vital areas. In addition, they keep your vision as clear as it should be when you move from cold environments to warmer ones.
You can also get an anti-fog spray to use on your goggle's lenses before a game. These anti-fog sprays are not permanent, but they would last for hours, offering you sight clarity throughout a game.
Lens Materials
Another area to look at is lens materials. Of course, different types of glasses feature different lens materials. Hence, the need to get yourself acquainted with the different types of lenses in the market and the degree of eye protection offered.
Depending on the lens material featured, safety goggles will protect you from injuries caused by BB pallets, flying particles, optical radiations, etc. Some of the most common materials used to construct safety goggles include polycarbonate, NXT polyurethane, optical glass, and acrylic. Always remember to consider the pros and cons of each material before choosing a lens made by that material.
Interchangeable Lenses
The more time you spend playing airsoft, the more weather conditions you'll encounter. Unfortunately, the truth is that no single goggles' lens can provide optimal visibility across different weather conditions. Fortunately, you can have multiple replacement lenses on hand to maximize visibility and performance across different situations.
Thanks to this invention, you can now own one goggle frame and use it optimally across different conditions. In addition, goggle manufacturers have also invented different ingenious ways to make lens swapping easier and faster. The only disadvantage of these quick-changing lens systems is their price tags. Beyond their cost, however, users can enjoy a quick means of changing lenses that typically come with a second lens.
Interchangeable lenses allow you to quickly change lenses without needing to carry a second pair of goggles.
Airsoft Thermal Goggles: Single or Double Pane?
This is another vital area to look at in airsoft goggles. Experts typically recommend thermal lenses over the single pane versions because of the numerous benefits they come with. Perhaps the most crucial advantage of thermal lenses is the anti-fog ability they feature. This feature means that you won't need to worry about vision impairment when you move from a cold atmosphere to a warmer one.
As usual, thermal goggles have their advantages and disadvantages, but their benefits far outweigh their disadvantages. Thermal lenses are typically more expensive than single pane glasses. However, you can rest assured that you'll be getting a top-quality product that works better at allowing you to see clearly in conditions where fog and condensation would have impaired your sight.
Colored Lenses
While in the market for airsoft safety goggles, you'll find that they come in different colors. These colors signify different functionalities, and it's essential that you properly understand what it stands for before choosing. So here, let's review the most popular colors.
Black: Most black lensed goggles offer protection against both BB pallets and the sun. They are the ideal type of goggles to buy if you'll be playing in sunny conditions. However, they are not suitable for indoor fields, considering their ability to impair your vision when you need to move to certain areas.
Clear: Obviously, the most common type of goggle lens for airsoft events. Clear goggles do not offer any kind of sight improvement or UV protection. Their only duty is to protect the eyes against BB shots. The most significant advantage of this color is its ability to offer you a clear vision across different playing fields.
Yellow / Grey: Most players tend to overlook this color when in the market for goggles, despite the benefits they come with. These lenses offer improved contrast without taking anything away from your visual keenness. In addition, experts would usually recommend this type of lens in low-light conditions.
Remember that the choice is yours. Before buying, think deeply about where and how you want to play. Consider the pros and cons of each before choosing the color that will best suit your playing needs.
Best Airsoft Goggles 2023
Most airsoft players understand the need to protect the eyes when playing. After all, it's one of the most volatile parts of the body, and a BB pallet moving at a very low velocity can cause severe damages. Fortunately, airsoft safety goggles can help you protect your eyes from BBs and other substances.
Thanks to the popularity of these goggles, the market is now filled with varying types and brands. While the presence of varieties is good, it can also be a disadvantage if you do not know what to choose. This section includes a detailed review of some of the best airsoft goggles and masks in the market. We will also include the pros and cons of each so you can know what to expect from each. Let's go!
1. XaegisTac XTG07 Tactical Airsoft Goggles (Best Anti-Fog Airsoft Goggles)
One look at this option, and you can almost tell that it offers top-notch functionalities. Beyond being one of the best non-fogging airsoft goggles out there, it also features an incredible level of comfort and protection.
Most people prefer it for the level of impact resistance its features. The use of a 2mm polycarbonate lens for this goggle means that it can withstand rough usage. It is evident that the manufacturers of this goggle have done so much to prevent fogging and ensure proper ventilation. For instance, they incorporated a double layering anti-fog coating to help prevent any kind of fog.
Let's talk a little about comfort. This goggle also does well in providing comfort for players. It features an exceedingly soft EVA foam that sits nicely on the face. Add the comfort that this foam offers with the goggle's ability to resist high and low temperatures, and you can tell that your comfort is guaranteed.
The compatibility of the goggle with airsoft masks makes it a perfect option for professional plays. Thanks to its low-profile design, you can combine it with other safety equipment.
Pros
It is very comfortable. The availability of foam padding all around the goggles' interior makes it comfortable on the skin.
It features an incredible level of durability.
The anti-fog qualities of the goggles help to maintain clarity across different weather conditions.
Cons
They would lose their anti-fog quality with time.
It is relatively expensive.
Quick Facts
Elastic long strap for better helmet compatibility
Interchangeable lens technology to allow for easy exchange of lens in playfields
Impact-resistant TPU frame.
2. Elite Force (Best Airsoft Goggles for Glasses)
Perhaps, the most significant advantage of this goggle is the lightweight design it features. Its lightweight design means that you can wear it with other equipment without being overburdened to move. Talking about other equipment, you can use this goggle with lower face masks. In addition, this goggle from Elite force is designed to offer protection and comfort. The availability of thick foam padding helps hold the goggles to your face without causing you pains or injuries.
Beyond the superior comfort that this goggle features, it also secures every part of the face around the eyes. It offers a complete seal around the eyes for optimal protection. Each pair of these goggles comes with an adjustable headband that can be removed or installed. The band helps to hold the goggles firmly when the heat of play gets intense.
Pros
It features a detailed interior with foam padding to protect your eye area from injuries.
It is lightweight and can be carried around with ease.
The presence of an adjustable strap makes it a perfect fit for different sizes of the head.
It features a unique anti-fog treatment to keep away fogs and maintain proper ventilation.
Cons
It would crack or break when used carelessly.
It does not suit smaller heads without the straps.
Quick Facts
It features a microfiber storage bag
High-Quality Polycarbonate Lenses
Optimal protection.
3. Valken Airsoft Sierra Thermal Lens Goggle (Best Thermal Lens Airsoft Goggles)
Like most other options in this list, the Valken Airsoft Sierra Thermal Lens Goggle offers excellent value for its price. However, beyond the price, most players are especially drawn to the fact that it hardly experiences any fogging issues. As explained in the buying guide above, thermal lens airsoft goggles feature a unique technology that ensures that fogs and other substances do not stick to the goggle. Many users also report that the goggles last for a very long time. Thanks to the use of top-notch materials for its design, this goggle will endure years of tough usage without dropping performance.
Let's also mention that there are also multiple color options to choose from. Therefore, you'll find a goggle that suits your needs. There's a strap that comfortably wraps around your head, keeping the goggle steady as you jump around in the playing field. Despite this stead, the goggle still features enough ventilation to contribute to its airflow.
The design of this goggle makes it ideal for use across different situations. Therefore, it's not surprising that users also use it to protect the eyes in various work-related situations where the eyes are exposed to flying particles, chemical splash, mud, etc.
Pros
The adjustable straps present in this goggle are durable and comfortable enough to suit different head sizes.
The overall design of this goggle combines style with functionality and comfort.
Its impact-resistant design means that it can withstand different types of BB weights.
It does not allow a pile-up of fogs.
Cons
You may still see tiny traces of fogs, although it may never get too thick to impair your vision completely.
Its fittings are not the most comfortable out there.
Quick Facts
It has a unique thermal system that provides anti-fog protection
The TPU frame feature allows for excellent resistance to heat and cold.
4. Valken Airsoft Zulu Thermal Lens Goggles (Best Low Profile Airsoft Goggles)
The Valken Airsoft Zulu Thermal Lens Goggle boasts an impressive low-profile design. However, it's not just this design that stands it out. Many people are impressed by the wrap-around style that the goggle features, making it easy to fit on any size of the head. Simply put, this goggle from Valken is comfortable, awesome, adjustable, and not as bulky as most other options out there. Fortunately, the manufacturers ensured that you could get all these are an affordable price.
Another area where the goggles stand out is in their anti-fog capability. It is easily one of the best anti-fog goggles out there, considering the efficacy of the anti-fog technology incorporated into the goggle. These heavily ventilated goggles also feature the right level of resistance to heavy impact. This feature helps the goggle to maintain long-lasting beauty and quality. It's not surprising that this option is rightly recommended for every age and gender. You'll never need to worry about the possibility of the goggle breaking when heavy pallets hit it.
Other features include an adjustable strap to help users achieve a more secure fit. The set is complete with a unique cleaning tool to make maintenance easy. You also won't need to worry too much about comfort because the lightweight design means less stress.
Pros
The presence of a durable, adjustable strap makes the goggle one size fits most.
Its lightweight design makes usage easier.
Easier to clean and maintain compared to most other options
It features a unique anti-fog technology that helps for better vision.
Cons
May still fog in high humidity play
It's not the most stylish goggle out there
Most users complain that it is made of cheap plastic.
Quick Facts
Lens color: clear
Quick-release interchangeable temples
Full-seal wrap-around style.
5. XAegis Airsoft Tactical Goggles (Best Airsoft Goggles for Glasses)
One look at this goggle, and you can tell that it deserves to be listed among the best. Yes, it's a stylish glass goggle, but that doesn't take anything away from the level of functionality that it features. Straight out of the box, you'll see that a good level of effort has been put into designing a goggle that can be used at the top level. In addition, there's a lot of high-quality accessories to complement the already impressive functionalities of the goggle. While reviewing this goggle and its accessories, we were particularly impressed by the availability of different lenses in the pack. It's also very easy to change the lens, even in the heat of an airsoft battle.
Another area where this goggle stands out is in ventilation and anti-fog ability. Yes, most top-quality goggles pay attention to these factors, but it's evident that the XAegis Airsoft Tactical Goggles does more to keep the fogs away when you need to play in high humidity. The top and bottom angles of the goggle are foam-lined to ensure there's enough space for proper ventilation. If you have to wear prescription glasses, these goggles are for you. It's designed big enough to accommodate a reasonably small eyeglass underneath.
The lenses are advertised as highly durable and impact resistant. If customer reviews are anything to go by, we can tell that this goggle will outlast many others. With its durability level, children can also be guaranteed that it won't easily break when they use it.
Pros
Blocks out up to 99% of UV rays
Features a unique anti-fog technology for clear vision during airsoft play
Each pack comes with an additional colored lens that you can change at any time.
Impact-resistant.
Cons
The lack of proper cushioning would affect the degree of comfort that the goggles can offer.
Not a good fit for many types of face masks.
Quick Facts
Scratch-resistant polycarbonate lens
Includes spare lenses and a carry bag for greater comfort
Suitable for different weather conditions.
6. Evike Avengers Airsoft Goggles (Best Airsoft Goggles with Fan)
These avengers airsoft goggles from Evike are designed to maintain top-notch proficiency across different weather conditions, even the most severe! Of course, the brand's popularity means that more airsoft players are interested in exploring their goggles. The relatively low price of the goggle also contributes to stand it out. Fortunately, the price does not take anything away from the level of comfort that the goggles offer. Many users can't get over the thoughts that they can get such a comfortable airsoft safety goggle at such a price.
Beyond the focus on comfort, the makers of this goggle have also ensured that it features top-level fog-resistant airsoft lenses. This helps take away one of the most common problems airsoft players face in their goggles; lack of clear vision in certain weather conditions. The makers of this goggle realize that an anti-fog coating on the lens doesn't always do the magic. Therefore, they've incorporated a turbofan into this low-profile goggle. Even with the fan, their goggles still meet several US safety standards. The battery-operated fan draws in the fresh air and pushes out humid air.
The lens is also impact-resistant, making it one of the best for outdoor battles. So if you want an airsoft gun that fits different circumstances, this is the perfect option for you.
Pros
Incredibly lightweight and comfortable
It features a comfortable foam that covers your eyes from flying elements.
It can be combined with prescription glasses
It features a fantastic battery life.
Cons
The location of the battery pack may limit wearing ease
The slight noise from the fan can be inconvenient to you.
Quick Facts
High Strength Polycarbonate Lens and Frame
It allows users to select between high and low functions.
Uses 2x AAA's battery type.
7. XAegis Tactical Eyewear (Best Cheap Airsoft Goggles)
Beyond the affordability that this goggle features, many people are also impressed by the ease of putting it on and off. It has been tagged as "a kit for everyone" because of the unique design it features and the convenience that users often report from wearing it.
Let's mention that it comes with interchangeable lenses that let you easily switch between different lenses on the same frame. With these interchangeable lenses, you can be guaranteed of having the right lens for different light environments.
Yes, the goggle is relatively cheap, but that does not take anything away from the immense functionality it features. The kit is complete with nearly everything you'll need to use and maintain the goggles. It also comes with a retaining strap that makes it easy for you to carry your goggles on your neck when you are not using them.
This goggle may not be the best in style, but it packs features that make it comfortable and functional. Straight away, you can tell that it is designed for serious players. Its superior lightweight performance adds to make it comfortable. If you want a pair of goggles that will last you through intense usage, this may be the perfect option for you. In addition, it is scratch-resistant, so you don't have to worry about BB hits leaving dents on the lens.
Pros
It comes with a solid carrying case for easier and better organization.
You can use it for several other purposes apart from airsoft plays.
Its design makes it a good fit for lower face safety masks and other safety equipment.
It is relatively affordable.
Cons
Do not pay enough attention to anti-fog technology
It is not as stylish as many people may want.
Quick Facts
It includes multicolored lenses for optimal use in different situations
High-quality sunglasses kit
Made of lightweight and durable materials.