How Are Gun Giveaways Legal?
The gift-buying season is upon us, and as usual, gun owners who enjoy hunting, target shooting, and plain plinking would want other people to share the fun of firearms with them. There's probably no better way to do this than sharing one of your firearms without your close friend, family member, or relative.
The first question that comes to mind when giving a firearm away is its legality. Guns are different from other daily items, and as such, it's vital to ask crucial questions surrounding legality before giving a gun away.
So, how are gun giveaways legal? There is no such thing as an easy answer to how to legalize gun giveaways since gun laws differ from place to place. In most cases, during gun giveaways, the receiver of the gun goes through the motion as if they are buying the firearm, although someone else would have to pay for it. However, as a giveaway organizer, there are useful steps you can adopt to make your gun giveaway legal. Some of the steps include:
Consider giving a gift card
Run background checks where applicable
Check the local laws, etc.
While it's essential for the receiver to do everything (paperwork and authentication), you also want to play your part to ensure that you're not breaking any law by giving away your gun. It's much easier if you give the weapon away from your collection, considering that you need to consult your state's law to know what's required. While some states would require all changes to ownership to go through a federal license dealer, others won't. Whatever the case, you need to know giveaway alternatives that wouldn't put you in the position of breaking the state's law.
How To Make Gun Giveaways Legal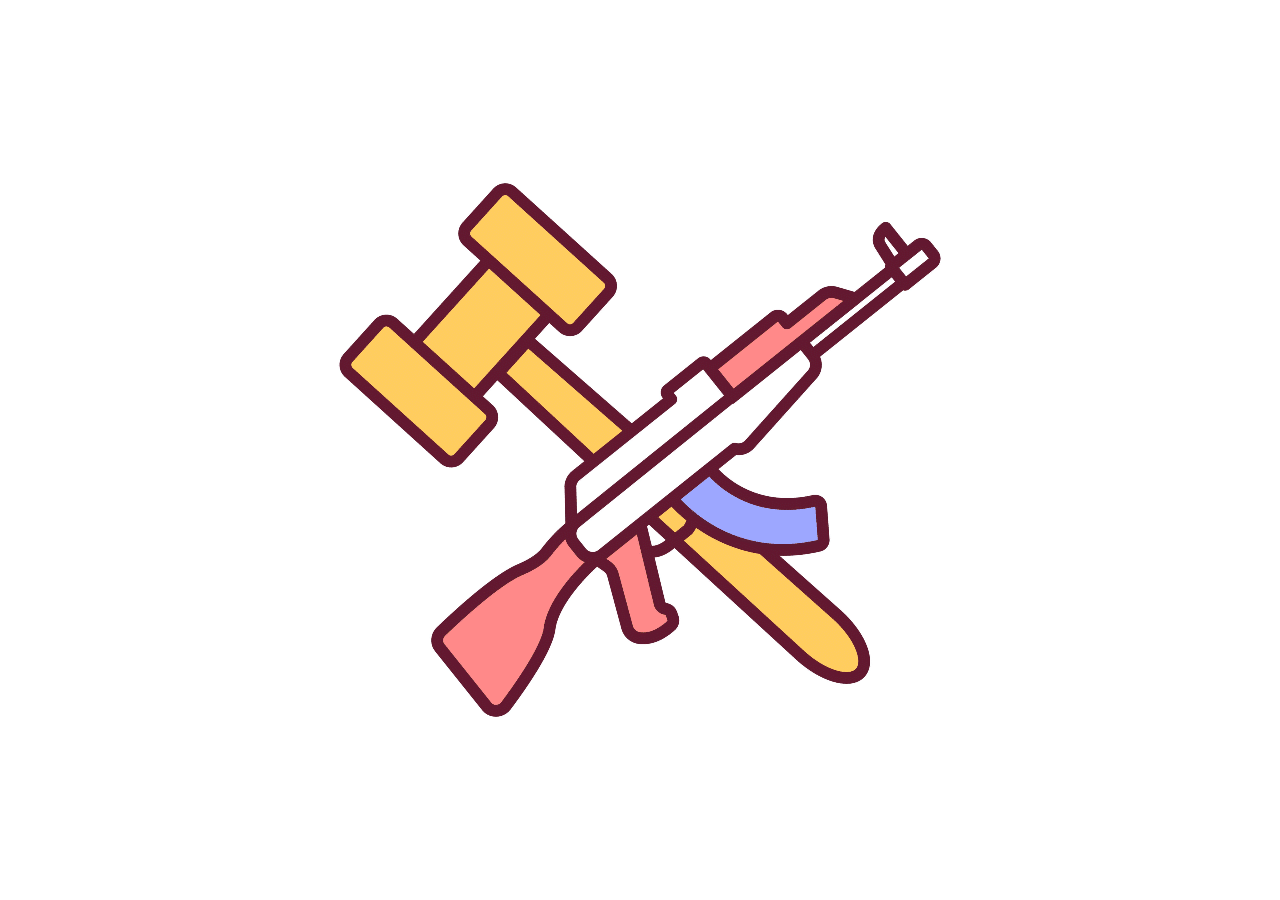 Whether you're the giver or the receiver of a gun in any giveaway, there's always the thoughts of the legality of it. As stated above, you would probably not know whether it's lawful for the receiver to own a gun or not. So, you'll need to transfer ownership as safely as possible. Fortunately, there are a few ways to transfer ownership without putting yourself in a disadvantageous position. Here, let's discuss some of them.
1. Consider a Gift Card
This is the most popular option these days. In fact, the Bureau of Alcohol, Tobacco, Firearms, and Explosives (ATF) recommends this option. If you intend to gift someone a new firearm, say your father or close friend, instead of buying it from a gun store yourself, consider purchasing a gift certificate from the gun retailer and giving it to the person as their present. This way, the receiver can get the exact kind of gun they want without leaving questions about whether you're the actual buyer of the firearm or not. The good thing about this option is that it exonerates you from any offense the receiver commits by possessing the firearm.
2. Run a Background on Your Giveaway Recipient
Let's face the fact; there are moments when you won't be able to give a gift certificate from a retailer. It could be because you want to pass your "old beauty" to your relative or because you enjoy seeing the joy on your recipient's face as they unwrap their present. Whatever the case, the first question that should come to mind is whether the gun recipient is legally allowed to own a firearm. Remember, it's wrong to gift, transfer or sell a firearm to someone not legally allowed to own one. That's setting yourself up to face trial for a federal felony. Yes, most states will enable the transfer of antique weapons from before 1899. However, we still recommend checking with the local law enforcement or retailer before handing over your gun to anybody.
3. Check Whether Ownership of The Weapon is Allowed in Their Locality
Beyond knowing whether your recipient can legally own a gun, you should also be sure that they can use said firearm where they live. Remember that gun laws can change from place to place. Sometimes, the changing law can affect the kind of guns law-abiding citizens can own in different areas. So the fact that your recipient can own your gun in your location doesn't mean they can own it in their location. Therefore, beyond checking with the local authorities to know what the law says, you should also do your background check on the recipient's location. If you find anything questionable about the acceptability of guns in their location, it's better to avoid giving your gun to them.
4. Ensure That it's Legal to Purchase From A Licensed Retailer in The Recipient's Location
Not every gun giveaway would involve your old cherished firearm. Sometimes, you'll want to grab one from a gun retailer for your recipient. In such cases, you want to also treat the transaction like you're the one using the firearm. Yes, there may be no law prohibiting a firearm gift to a friend or relative from your state, but you should know that some states require you to use a local licensed firearm retailer when transferring a firearm to a recipient. If this is the case, you want to deal with a retailer that's allowed to sell in your recipient's location. Apart from knowing and keeping all gun dealership laws, such retailers can also help run a background check on the recipient to ensure they are legally allowed to own the said firearm.
Conclusion – How Are Gun Giveaways Legal?
That's it, a detailed answer to how you can make gun giveaways legal. Maybe you just bought a firearm for an acquaintance, or you're looking to ship your old gun to a giveaway winner, and you're wondering how to transfer it. The truth is that transferring through an FFL would involve navigating so many rules surrounding firearm transfer laws and shipping.
Don't worry, conducting an FFL transfer can be legal, easy, and seamless if you know the best transfer process. Of course, it begins from knowing the firearm transfer rules. But beyond that, there are some other actions you can take to navigate the legality of gun giveaways. Throughout this article, we've explained these steps and how you can incorporate them into different scenarios to make your gun giveaway legal.
FAQ
How Do Gun Giveaways Work?
Gun giveaways operate as promotions where firearms are offered as prizes. Participants may enter for free or through purchase, and winners are selected randomly. Legal regulations, including background checks and age restrictions, must be adhered to ensure the transfer is lawful.
What Is the Meaning of Gun Raffle?
A gun raffle is a fundraising event where tickets are sold, and winners are randomly selected to receive firearms as prizes. These events are subject to federal and state laws, ensuring all transactions are legally compliant, including mandatory background checks.
Can You Give Guns to Friends?
Firearms can be gifted to friends, provided both the giver and receiver abide by federal and state regulations. The recipient must be legally eligible to own a firearm, and in many states, a background check is required to complete the transfer.
Is It Illegal to Raffle a Gun in Texas?
In Texas, gun raffles are legal but are subject to specific rules and regulations. Organizations conducting the raffle must adhere to state laws, and winners must meet eligibility criteria, including undergoing a background check, to legally receive the firearm.